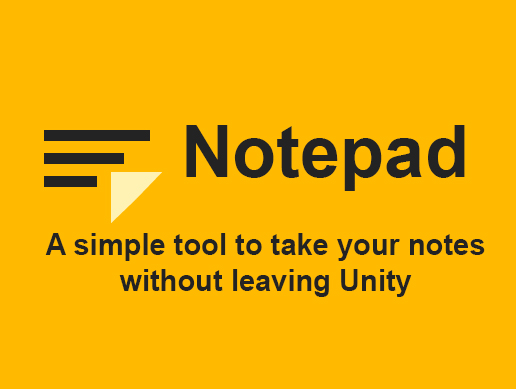 [NOTEPAD]: A SIMPLE TOOL to take your NOTES without leaving UNITY
If you need a note-taking tool this extension is for you.
Take your notes without leaving unity thanks to this plugin and increase your productivity and organization.
With its user-friendly design, this tool is extremely easy to use.
You can also customize the colors of your notepad using the Color Themes utility.
Support:
If you need help or want to ask any questions, please do not hesitate to write me:
contact@sverdegd.com
Check my other tools at https://github.com/sverdegd !

Changelog:
v1.0:
v1.1:
Added a new navigation note system.
Fixed the warnings that appeared in version 2018.
v1.2:
NOW IT'S FREE
Changed the style of the navigation bar buttons.
Fixed undo in the ColorThemeEditor.
Fixed the default themes foldout in the ColorThemeEditor (now click on the label toggles the fold).
Now the save path of the last open note is independent per project.
Now the initial path of any file browser will always be the path of the project.
Download
Click download now to get access to the following files: